Commercial Services for Schools in PA
Offering the best electrical, HVAC, and plumbing services for Central & Eastern PA schools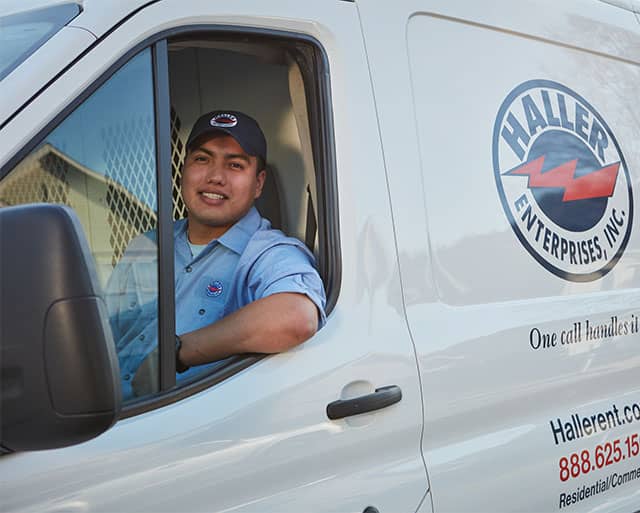 Have Questions? We're Here to Help!
Quality, Friendly Service in Central & Eastern PA
Serving Your Educational Facility
Whether you're managing a public, private, or charter school, our trade services are here to ensure your educational facility runs safely and efficiently. With Haller, you can trust our HVAC, plumbing, and electrical services to help you maximize the comfort of your school, faculty, and students.
Tune Up Your School With Our Trade Services
From elementary schools to university campuses, we do our homework to keep your educational facility and its systems in shape. Contact Haller today and book an appointment for any of our following commercial services.
Electrical
Your school requires a lot of electricity to run. With a wide range of electrical services like touchless system installations and lighting automation, we're here to help you cut energy costs and ensure your school's electrical system is safe and efficient 24/7.
HVAC
Airflow and air quality are crucial for the comfort of your educational facility. We'll help install, maintain, and repair any of your school's heating and cooling systems to ensure the air in your school is comfortable year-round.
Plumbing
From bathroom stalls to cafeteria equipment, your educational facility's plumbing system covers a lot of ground. Our A+ plumbing services are here to keep your drains, pipes, and water clean.
Refrigeration
Our technicians are here to help optimize your space by installing and maintaining the refrigeration system best fit for your facility. Whether it's keeping food fresh in a campus cafe or a science lab's inventory cool, we'll make sure your refrigeration equipment operates at top performance.
Maintaining Your School's Central Systems
The comfort of your educational facility is our top priority. If any of your electrical, HVAC, or plumbing systems need repair, our technicians are on call 24/7 here to save them by the bell.
When you call Haller for a project, we'll complete it on time and work to limit disruptions to your school's daily operations. Call us today to book an appointment or learn more about how our services can help maintain your facility.
Contact Haller today!
Contact Our Commercial Department
Fill out the short form below & we'll be in contact with you quickly!
"*" indicates required fields
Ready To Talk To A Commercial Services Specialist?