New Construction Services in Manufacturing
Proudly offering new construction services for manufacturing facilities in Central & Eastern PA.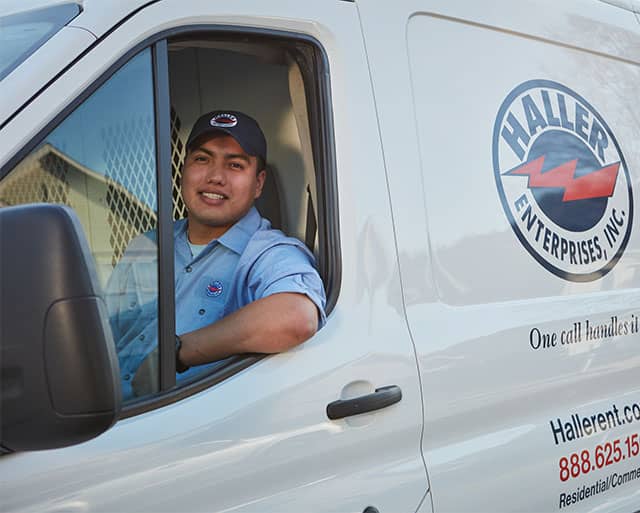 Have Questions? We're Here to Help!
Quality, Friendly Service in Central & Eastern PA
Constructing the Future of Your Industrial Facility
We understand the design and construction requirements your industrial facility needs to operate smoothly and efficiently. Haller is here to design your facility and install the best plumbing, HVAC, and electrical systems for your business in Central & Eastern PA.
Are you looking for a partner to help build a manufacturing facility? Please fill out our form below to get started.
Our Construction Services for Your Industry
Our experience in the new construction industry excites us to work on new projects. When you partner with Haller, you can trust our plumbing, electrical, and HVAC work on your new manufacturing facility to be done correctly and on time. We are also flexible to adapt to any changes your project requires.
Are you interested in partnering with Haller? Check out our construction services below and book your service today.
Plumbing
Our expert plumbers in Central & Eastern PA work to install your industrial facility's plumbing system and ensure it keeps your building's water running safely and smoothly.
Electrical
Your manufacturing equipment requires a lot of electricity to operate. Our team can help design and implement a safe and efficient electrical system for your facility. We cover it all, from lighting automation and touchless electric systems, to underground wiring for large open spaces.
HVAC
Airflow, air quality, and air temperature are three vital elements for the comfort of your facility. Our team designs and installs the best heating, ventilation, and air conditioning (HVAC) systems for your industrial facility in central & eastern PA.
Facility Maintenance
Once your project is complete, you can rely on Haller's commercial services to repair, replace, and maintain all your facility's plumbing, electrical, and HVAC systems.
Safety is our priority
While starting a new construction project is exciting, it must prioritize safety to prevent any hazards. We hold regular training sessions at our Learning & Career Development Center, HallerU, to keep our team up to date and help improve our OSHA Incident, Experience Modification (MOD), and Days Away Restricted or Transferred (DART) rates.
You can trust your facility's design and construction with our detailed project plans and safety precautions.
Let Haller Handle Building Your Manufacturing Facility
Haller can help build manufacturing facilities that help businesses in Central & Eastern PA grow and thrive. Our team is ready to tackle your project from start to finish––and once it's all said and done, we're here to help maintain your facility's plumbing, electrical, and HVAC systems.
Call Haller today to help build the future of your facility.
Contact Our Mechanical Department
Fill out the short form below & we'll be in contact with you quickly!
"*" indicates required fields
Ready To Talk To A Mechanical Specialist?