Challenge
Listrak Corporation, a nationwide leader in the multi-channel marketing industry, wanted to consolidate its workforce of 300 employees into one centralized office space in Lancaster, PA, while at the same time accommodating for future growth of up to twice that size. In this challenge, Listrak saw an opportunity to build a state-of-the-art facility that not only met their functional requirements, but also the needs and desires of the employees themselves.
"We listened to every single suggestion," said Listrak CEO Ross Kramer. His team then identified and prioritized the most popular requests, and asked their contractors to incorporate the top ideas into the engineering plans.
The result was an expansive headquarters encompassing 93,000 square feet, including open-concept office space, shared meeting rooms, advanced teleconferencing capabilities, an on-site gym, commercial kitchen, a cafe, and areas for relaxation and rejuvenation.
It sounded amazing, but building such an impressive facility required some innovative solutions.
With ceiling heights reaching 36', the open-concept office space alone would require nearly 10 miles of conduit and piping laid under concrete flooring. Precision was critical when installing the countless electrical outlets needed for employees. In addition, Listrak wanted a turnkey solution to their HVAC system, minimal noise, and also requested that the installation match the industrial look of the rest of the building. With so many offices, meeting rooms, and the large open floor plan, this presented a unique challenge for the engineering team.
Solution
That's when Ned Pelger, President of Pelger Engineering & Construction, the lead contractor on the project, called Haller. "Haller's design and build capabilities, their cost-effective approach to the project, their capacity to do all three trades, and our past experience with the Haller team made them a top pick for this project," said Pelger.
Haller's in-house engineering team designed multiple HVAC systems to allow for individual temperature control in each office, while also providing a centralized system for the larger open areas. A custom-designed IMC-compliant air ventilation system was installed for use in common areas, with damper sensors that modulate based on occupancy, and an economizer to circulate in clean, outdoor air. To maximize efficiency in smaller offices, motion sensor-controlled dampers were installed. These dampers also circulate in clean air when the room is occupied. All systems include carbon monoxide (CO) monitoring and employee adjustment capabilities, as well as a primary control in the facility manager's office.
To meet the electrical needs of the company and the open floor plan of the building, 40 miles of data wire were placed under a slab and inside ceiling trays. A 150KW exterior gas generator and an upgradable 50KW UPS system were installed to ensure no interruption of service.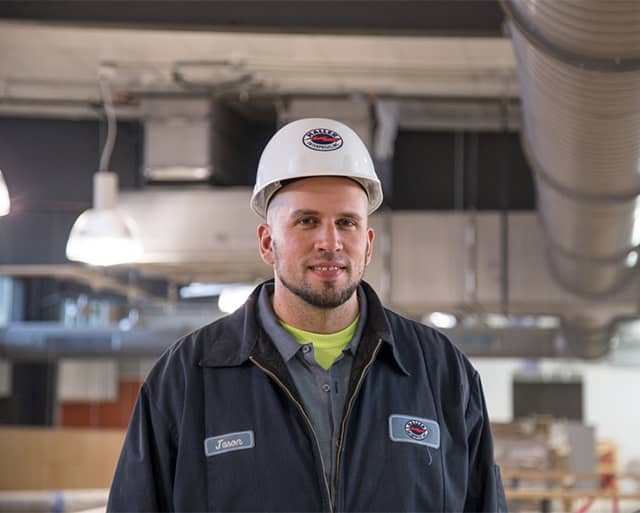 Throughout the project, the Haller team worked closely with multiple specialty contractors to help power everything from computer hardware to kitchen equipment. The team adjusted quickly to any engineering changes as they came up during the pro
As is often the case with projects of this size, construction delays were inevitable. This shortened the timeline for electrical and HVAC installation. Fortunately, Haller was able to work with subcontractors, stayed in scope, and completed the project on schedule.
From engineering design and architect collaboration to material, equipment, labor, and installation, the entire team at Haller is proud to have been part of the successful completion of Listrak Corporation's state-of-the-art facility.
Whether you're tasked with new construction or a retrofit project, energy-saving renovations or routine site maintenance, Haller's team of experts will always provide you with the highest level of service and attention to detail.
Call Haller or fill the form out below to start your next project.
Contact Our Commercial Team Now
Provide us with a few details and we'll be in touch as soon as possible!
"*" indicates required fields