Are you spending more time at home? We asked our licensed technicians what you could be doing around the house to help make sure everything is running efficiently. Take a look at our DIY home maintenance checklist that will help you take care of your home.
Once you've mastered these tips, check out our part two of this two-part series for more ways to take care of your home!
Why Take the Time to Tune-Up My Home?
Proactive maintenance is a key to preventing small problems from becoming big and costly and lengthening the life of your valuable home investments. When you have a little extra time at home, check in on your systems. Here are five excellent places to start: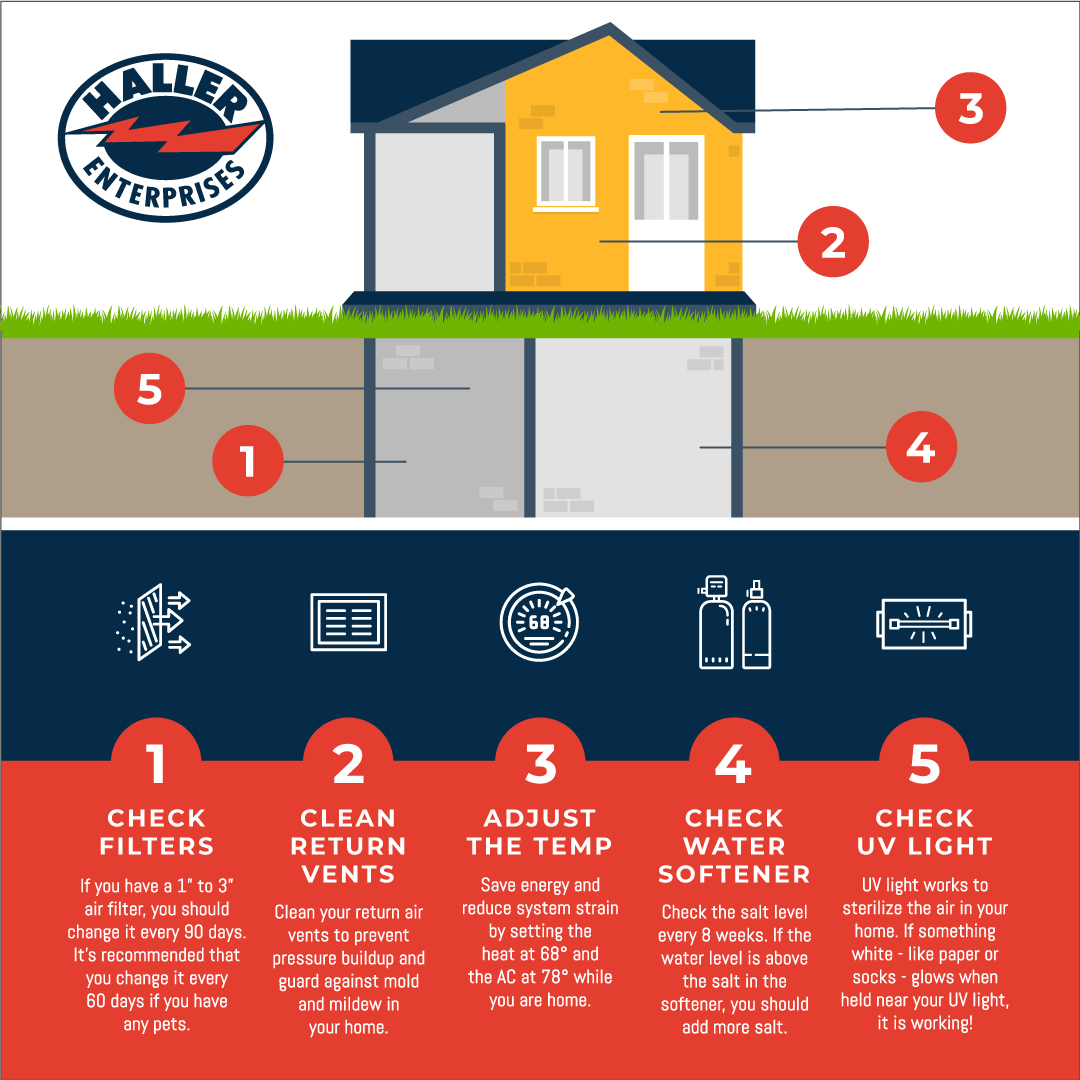 1) Check and Replace Your Heating and Cooling (HVAC) Filters
Your AC and furnace air filters help maintain good indoor air quality by filtering the air circulating through your home––so it's important they stay clean! Dirty air filters can lead to issues like reduced airflow and cooling inefficiency. Be sure to check on your filters to see how they're holding up.
How often should you change your air filters? If you have a 1" to 3" air filter, you should change it every 90 days. Now, if you have furry friends at home, we recommend you change your filter every 60 days. If your home has a larger filter (4" or 5"), consider changing it every 6 to 12 months.
2) Clean Your Return Air Vents
Your HVAC system is made up of a series of ducts and vents that circulate air throughout your home. The return air vents do just what you'd expect: return air to your HVAC system to ensure proper circulatory patterns and consistent temperatures.
Air vent cleaning helps reduce high air pressure and guards against mold and mildew buildup in your home. Make sure to check on your return air vents and clean them when necessary!
3) Adjust Room Temperature Settings
While your HVAC system circulates the air, your thermostat controls the air temperature. When you're staying home during the day, you may need to adjust the typical cycle of your thermostat to stay comfortable.
We recommend setting your temperature at 68 degrees when cooling your home and 78 degrees when heating your home. Maintaining these temperatures throughout the year can reduce strain on your heating and cooling system and helps lower your energy costs.
4) Check Your Water Softener Salt Level
Water softeners work magic –– that is, if you maintain them properly. Make sure to check the salt level in your water softener every eight weeks. If the water level is above the salt in the softener, it's time to add more salt. When you look into your system and only see water, you need to add the correct amount of salt for your system, which is about ¾ of the tank. Maintaining the salt levels in your water softener will make sure it can counter the hard minerals flowing through your water.
5) Check and Install UV Light Bulbs
In consideration of the times we live in, it's crucial to practice sustainable home hygiene to battle against, germs, allergies, and illness. Installing ultraviolet (UV) lights, which act as sterilizers, is a great way to minimize the number of germs and bacteria circulating in the air you breathe. One great way to kill germs that may be circulating in the air is with ultraviolet (UV) light, which acts as a sterilizer.
If you already have UV light bulbs, double-check to make sure they're on and working properly. You can do so by holding up something white next to your UV light bulbs (like a sock or a piece of paper). Are they glowing with a purple or violet hue? If so, your UV lights are working properly!
Haller is Here to Help in Central & Eastern PA
If any issues arise while you're poking around your home systems, Haller now offers virtual support through HomeX Remote Assist. Our trained technicians can help answer your questions and guide you to a solution over the phone or through video chat, so we only send a technician to your home if it's absolutely necessary.
For more tips, don't forget to check out part two of your home maintenance checklist to give your home the comfort it deserves.
If you're a Haller One Call Club member, don't forget to schedule your maintenance visit – it's free as a part of your membership! Customers who aren't members can also schedule their visit today.