If you're spending more time at home, there are plenty of things you can do to care for your house and its systems. We asked our licensed technicians for expert tips on what homeowners can do make sure everything is in tip-top shape. In part one of this two-part series, we shared five of the tips. For more, keep reading to learn how you can help maintain your home in Central & Eastern PA.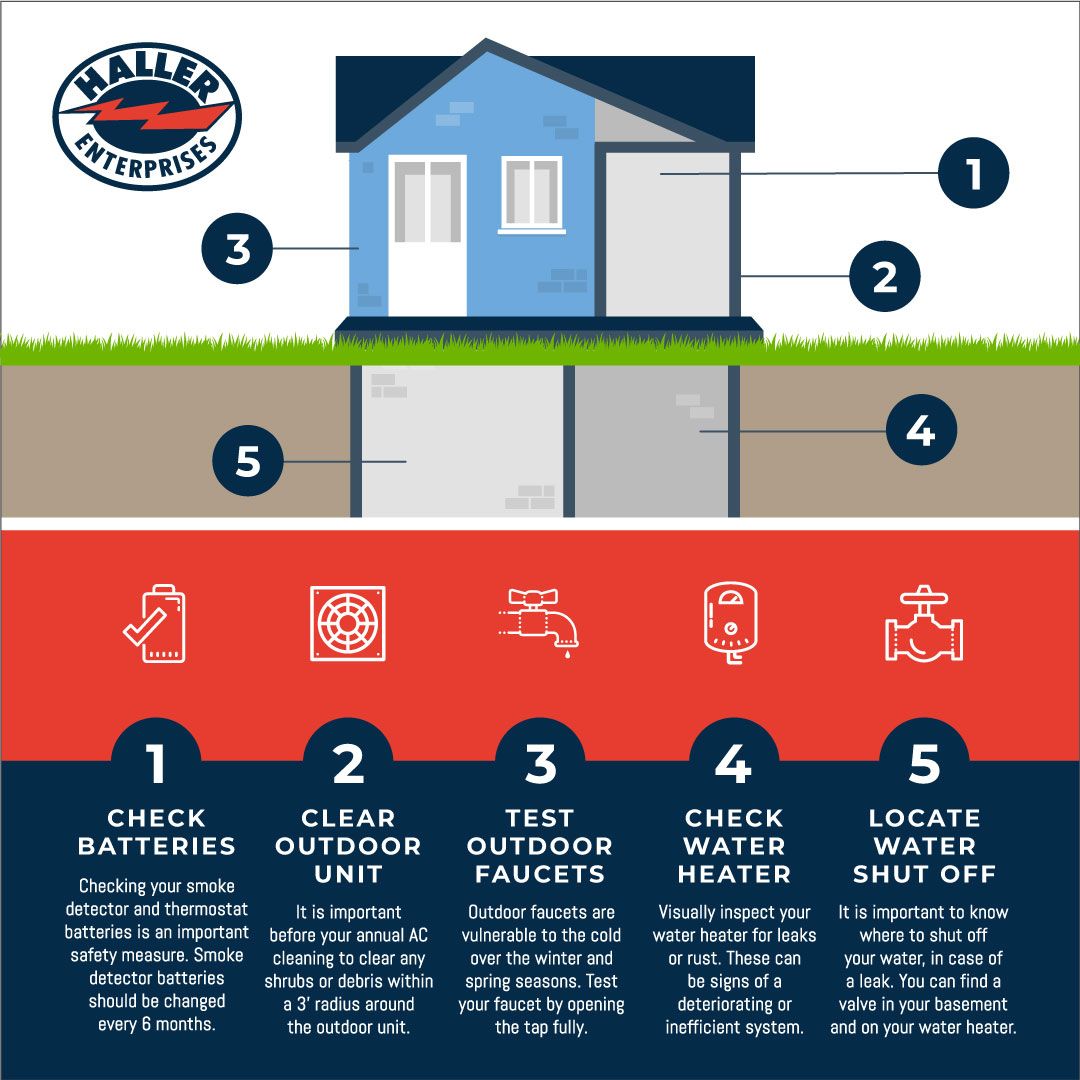 Why is Home Maintenance Important in PA?
Proactive maintenance can save you time and energy, especially when it comes to seasonal checkups. Since spring can bring on some wild weather and you may be firing up systems that haven't seen much action through the winter, it's smart to check on certain parts and devices around your home. Here are five things to consider:
1) Check Smoke Detector Batteries and Thermostat Batteries
Make sure your smoke detectors and thermostat are fully charged so they can operate properly. Here are a couple of tips to keep these devices running well.
When to change smoke detector batteries?
You should change your smoke detector battery at least once every six months.
After making the change, you can test your smoke detector by pressing and holding on the test button until you hear the alarm. You should test your smoke detector at least once a month to ensure the batteries are still working.
When to change thermostat batteries?
You should change your thermostat battery at least once a year, and check on your thermostat battery level at least once a month. When your thermostat is low on battery, you'll see a low-battery symbol on your system's display, so keep an eye out for that each month.
2) Prepare your Condenser Unit for its Annual Cleaning
As summer approaches, you'll need to kick your air conditioner back into gear after its winter hibernation. To prepare your air conditioning system for hot and humid days, make sure to perform an annual cleaning of your outdoor condenser unit.
Before you have an HVAC specialist come out, prepare your condenser unit and make sure it's accessible. Clear any shrubs or debris away from the area (at a three-foot radius) of your unit to give your technician plenty of space to do their job.
3) Test your Outdoor Faucets
Over the course of the winter and spring seasons, your outdoor faucets are exposed to colder temperatures. This exposure can cause your pipes to freeze and harm your plumbing system.
When spring and summer approach, it's important to check your pipes to make sure they survived the winter with little to no damage. Open the taps on all of your outdoor faucets to see if water flows – if it does, you're good!
If water isn't flowing freely from your faucet, your pipes may have frozen over the winter. Call on Haller's plumbing services today to fix your pipe issues.
4) Inspect your Water Heater for Leaks and Rust
When it comes to water heater maintenance, there are two important items to keep in mind: leaks and rust. These are two key signs of a deteriorating or inefficient water heater.
Take a trip down to your basement or storage room to check on your water heater. Visually inspect your unit from top to bottom for any signs of leaks or rust.
Water heater leaking?
A leak can indicate a number of issues with your water heater, ranging from old age to a loose connection, a faulty valve, and more.
Water heater rust on top or bottom?
Rust on your water heater may indicate signs of corrosion from mineral buildup. Corrosion can wreak havoc on your water heater, and the more it corrodes, the less efficient it becomes.
Rust can be a bigger issue — and bigger fix — than you might imagine. If you're experiencing either of the issues listed above, call one of our plumbers or technicians today so they can inspect your water heater and repair or replace it.
5) Locate Your Main Water Shut Off Valves
Your main water shut off valves control your home's water flow. It's important to know where these valves are located so you can shut them off immediately once you notice any major leaks from anywhere in your home.
Where to find the water shut off valve?
There's one water shut off valve located inside your home and one on your water heater itself. The one inside your home can be found along the perimeter of your house where water enters from outside. If you have a basement, that's likely where you'll find it. You can also control the main water supply from the valve located on your water heater.
Individual systems also have shut off valves. Should you need to, you can locate shut off valves behind, below, or attached to your toilets, sinks, washing machines, and other appliances.
If any issues arise while you're poking around your home systems, Haller offers virtual sessions with expert technicians through HomeX Remote Assist. For our Haller One Call Club members, your first call is free! Our trained Remote Assist experts can help answer your questions and guide you to a solution over the phone or through video chat, so we only send a technician to your home if it's absolutely necessary.
If you're a Haller One Call Club member, remember to schedule your maintenance visit – it's a complimentary service for members! Customers who aren't members can also schedule their visit today.